Lean into Holy Week at home this week with this daily scripture reading and prayer guide.
Download a PDF version of the guide here.
DAY 1: HOLY WEDNESDAY
DAY 2: MAUNDY THURSDAY
Today is Maundy Thursday.
Consider taking home communion with your family or by yourself as you remember Jesus' last meal with his disciples.
Readings are here: https://bit.ly/2VazO8z
#holyweekathomemcc
DAY 3: GOOD FRIDAY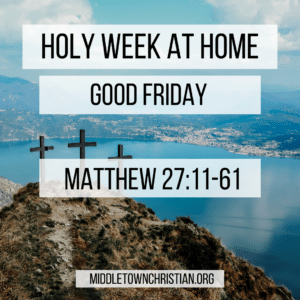 Consider lighting a candle as you read the story of Jesus' trial, crucifixion, and burial.
Read along in your bible or here: https://bit.ly/3c0W9Mn
DAY 4: HOLY SATURDAY
Consider taking a walk today in your neighborhood. What are you waiting for God to do? Pray as you walk, telling God what's on your mind.
Readings are here: https://bit.ly/2x9kGQD
#holyweekathomemcc